AGROSMARTglobal held yesterday, December 16, a webinar on the new requirements to export agri-food products to China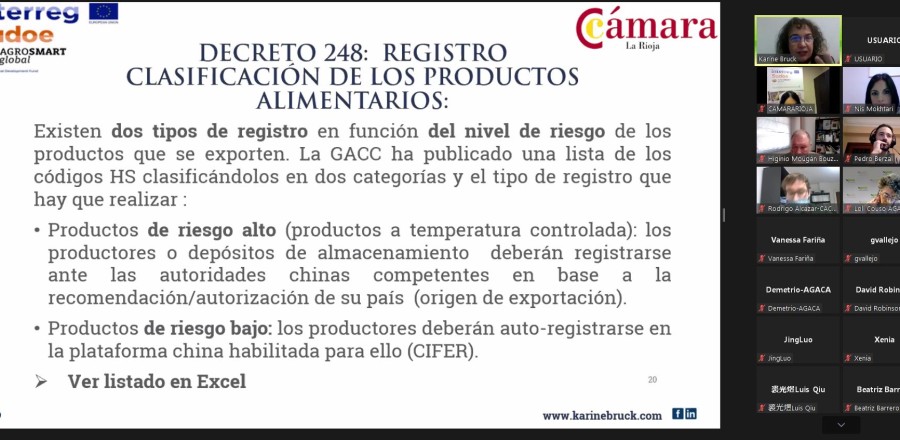 The online session was held on December 16, starting at 10:00 a.m. via Zoom, with an approximate duration of 90 minutes. Fifty-two companies were registered with it.
The new decrees of the Chinese Government applicable to agri-food companies (Decrees number 248 and 249) were studied in depth, as well as the procedures for registration, declaration, labeling regulations and import obligations in China that said decrees establish.
The complementary documentation and certificates that the shipment of agri-food products to China requires was also analyzed.
Karine Brück, CEO of the consulting firm Karine Brück, participated as a speaker together with Nis Mokhtari, Director of internationalization in the company.
The AGROSMARTglobal project is designing aggregate storefronts of companies in the agri-food sector of the SUDOE area -France, Spain and Portugal- to access the digital markets of China and the US The B2B platforms selected to host these storefronts are: Importfood.net and Putaojiu.com for China and Rangeme.com and Alibaba.com for the United States market.
Free consulting services are also offered for SMEs on digital internationalization.
(Note: This text is an automatic translation from Spanish.)