AGROSMARTglobal cooperatives approach international e-commerce in an informative webinar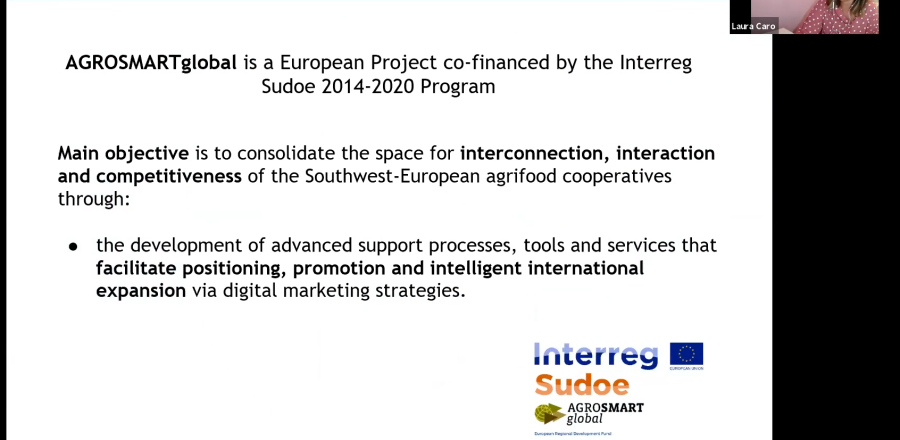 On September 13, the European project AGROSMARTglobal held an online conference on e-commerce platforms for the Chinese and US markets.
Cooperatives and SMEs participating in the project attended a webinar on e-commerce platforms on September 13, where their products will be offered to potential clients in China and the United States, countries with which the project seeks to strengthen business relationships.
These are B2B platforms (business to business: business to business) with a large presence in electronic commerce in the target countries of the project: Alibaba.com and RANGE.me for the United States and ImportFood.net and Putaojiu.com for China.
AMVOS Digital, a partner entity of AGROSMARTglobal, organized the webinar and also explained some strategies, focused on obtaining and treating leads, that is, potential clients for the products or services of cooperatives or business partners.
Currently, 67 cooperatives and SMEs from Spain, France and Portugal participate in the project, which works with entities to develop strategies with which to position themselves in electronic commerce and offers a personalized consulting service that began in the summer, a training program and other resources on digital internationalization, such as the "Guide to key factors for digital internationalisation".
Other of AGROSMARTglobal's objectives are to promote the quality and differentiation of the products of agri-food cooperatives and define measures to protect and promote Protected Geographical Indications and Denominations of Origin on the internet.