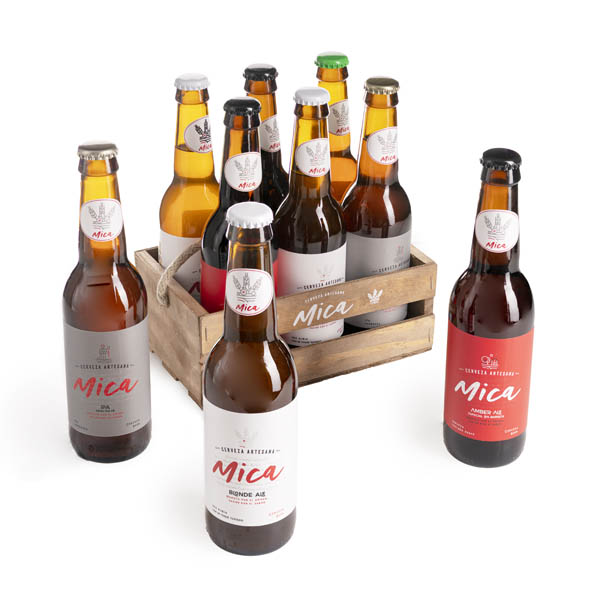 Mica Cajita Madera Beer Pack
PRODUCT CHARACTERISTICS
Region: Burgos España
Sector: Beverages Beer
Mix of Beers
Marketplaces
Certifications
IFS-Global Foods Certification
Premios
2020–Imperial Stout. Bronze medal. Asia Beer Challenge. 2020– Rabid American Pale Ale. Silver medal.Lyon International Competition
Cervezas Mica
100% Natural and craft beer
We are from La Ribera del Duero, and here, in addition to winegrowers and winemakers, we grow cereals.
Mica is a characteristic mineral of the mountains, in our town, Fuentenebro (Burgos). The Sierra de Fuen Tenebro has a height of more than 1,300 meters. At this altitude, in a high mountain climate, and surrounded by a great diversity of minerals, we grow our barley with which we make this unique beer.
With this height and these minerals, our land, also very characteristic, reddish clay slab , provides an excellent quality barley, which Jesus pampers and cares for throughout the year, and with which we make 100% Natural Mica Beer.
With intense and exclusive flavors, in which we incorporate only natural ingredients, such as an amazing range of various malts, hops, yeast and water. And the distinctive touch of our fresh natural barley, collected every year on our land.