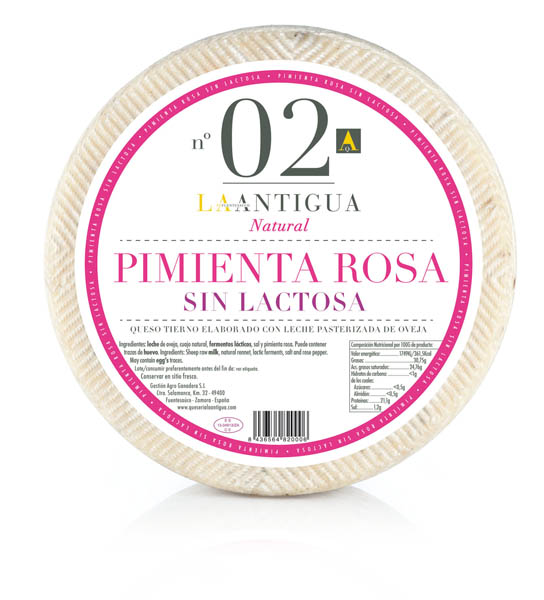 La Antigua lactose-free soft cheese with pink pepper
PRODUCT CHARACTERISTICS
Region: España Salamanca
Sector: Dairy products Cheese
This lovely cheese will surprise you and we will tell you why. It is not a gin and tonic, but it has pink peppercorns. It`s a fun cheese, since it gives it hat sweet, fruity and slghtly acidic taste. And besides, if you are lactose intolerant you can eat ir without and fear. It is made from pasteurized sheep`s milk, so despite being a cheese with a very short ripening, between 7 and 35 days, it contains all the flavor of sheep`s milk, and of course, if you are pregnant, you can consume it.
Marketplaces
Queseria la Antigua
From the sheep to your palate.
Fruit of hundreds of years of pastoral tradition in the Zamora and Salamanca area, our cheeses are born.
A traditional elaboration that identifies grazing and its herds with the care of our natural environment, the Castilian steppe.
After 20 years of love for cheese, we know that the secret lies in taking care of the processes and obtaining the best raw material: sheep's milk.
Our cheeses contain the flavor of an incomparable natural, local and social ecosystem.
We are defined by madness and that special spark that makes us transmit to all those who know us and are around us the emotion and the memory of the flavor of their childhood because we make a traditional cheese of exceptional quality.
We want to transform the moment in which you eat cheese into that moment of relaxation, to inspire you to do better things with your life, your work… And this can only be achieved by seeking new quality products to obtain better and more original cheeses.